Since 1959, four generations of Cameron family members have guided the privately-held Cameron Group of companies.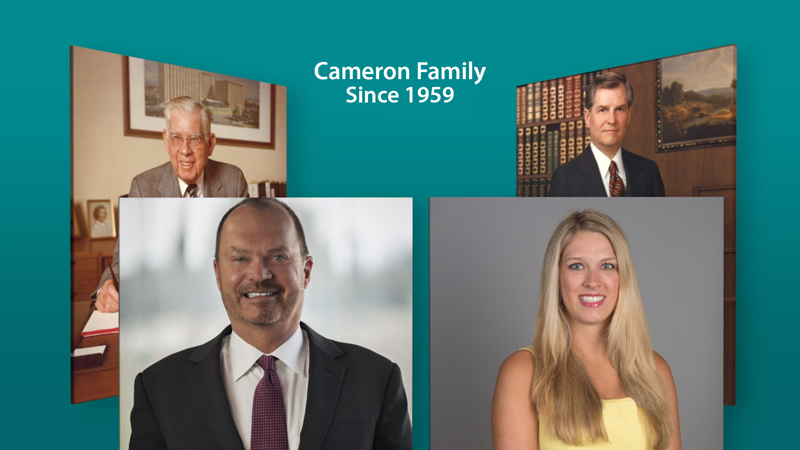 And with over 60 years of experience navigating setbacks and successes – we understand what it takes to not only survive, but thrive. That's why we're here to help our customers do the same thing.
This foundation has influenced how we


take care of our
colleagues

and engage in our
communities
For decades, members of the Cameron Group have worked to serve customers throughout the US and beyond.
1959
INSURICA
Founded in 1959, INSURICA is among the 50 largest insurance brokers in the US, providing access to specialized insurance coverage and risk management programs for commercial, employee benefits and personal clients across the country.
1960
American Fidelity Assurance Company (AF)
Founded in 1960, American Fidelity Assurance Company (AF) provides employer cost-savings solutions and supplemental insurance benefits to specific industries.
1964
American Fidelity Property Company
Operating from 1964-1984 as REALTEC Property Management Corporation, and since 1989 as American Fidelity Property Company (AFPC). AFPC provides full service real estate brokerage, management, development and investment services for AFPC and affiliates. Our real estate ventures extend to office, industrial, residential and retail. Operating throughout the United States, AFPC continues to pursue real estate opportunities.
1974
American Fidelity Corporation (AFC)
American Fidelity Corporation (AFC) is a holding company that, through its subsidiaries, provides financial services, insurance, and HR support to employers, employees, and trade association members in the United States and internationally. AFC also develops real estate and provides support services to all of the Cameron companies.
1985
American Fidelity Foundation
American Fidelity Foundation is dedicated to improving the quality of life in Oklahoma City and beyond by partnering with other organizations to support important community initiatives. We are proud to be strong corporate citizens committed to building a vibrant community for our Colleagues and Customers.
1986
First Fidelity Bank
Founded in 1920, First Fidelity Bank is a full-service community bank with solutions for commercial and retail customers. This includes checking, loans, investments and cash management services.
1994
First Financial Group of America
Founded in 1966, the companies of First Financial Group of America provide employee benefit solutions, administration services solutions, insurance benefit consulting and enrollment solutions for school systems, hospitals, counties and city governments.
1997
InvesTrust Wealth Management
Founded in 1985, InvesTrust is a full-service retirement savings plan provider and investment management firm for individuals, families, trusts, corporate entities and charitable organizations.
2000
AF International (Bermuda) Ltd. (AFIBL)
Founded in 2000, American Fidelity International (Bermuda) Ltd. offers high-quality financial protection solutions to individuals throughout Latin America and Asia through an international consultant distribution system.
2008
Alcott HR
Founded in 1987, Alcott HR is a comprehensive HR solution that includes HR compliance, administration and technology, payroll and taxes, employee benefits, training and development.
2012
AF Administrative Services (AFAS)
Founded in 2012, American Fidelity Administrative Services, LLC (AFAS) offers health and welfare benefit plan analysis and consulting services, as well as compliance assistance with the Affordable Care Act (ACA).